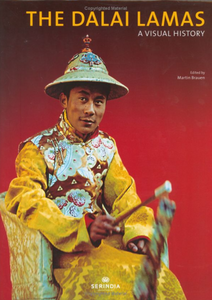 With the respect and fame the current Fourteenth has come to enjoy around the world, the title "Dalai Lama" has entered global consciousness, and yet few people know its origin, meaning, or the system of reincarnation behind it. We cannot understand Tibet's long and rich history without looking at the lives of the fourteen men who have held this title.
The Dalai Lamas: A Visual History presents the history of all fourteen Dalai Lamas in both essays and illustrations. Sixteen contributors from around the world illuminate the institution of the Dalai Lama, including the system of reincarnation; the biographies and religious training of each Dalai Lama; their relationship to religious schools, other lineages, regents, and the Panchen Lamas; their religious and political interconnections with surrounding countries; and their more recent interactions with Russia, Europe, and America.
More than three hundred illustrations, largely unpublished previously, have been meticulously selected from Tibetan, Chinese, Indian, European, and American archives and include thangkas, murals, statues, and historical photographs drawn from public and private collections worldwide to present a comprehensive array of visual representations. The texts also include Tibetan scripts for the first time in such setting, making the book an important reference source for students and researchers of Tibetan art, religious, and political history.
Contributors: Martin Brauen, Georges Dreyfus, Amy Heller, Michael Henss, Fabienne Jagou, Matthew T. Kapstein, Karénina Kollmar-Paulenz, Leonard W. J. van der Kuijp, Erberto Lo Bue, Derek F. Maher, Alexander Norman, Kurtis R. Schaeffer, Hanna Schneider, Tsering Shakya, Shen Weirong, and Per K. Sørensen.
Hardcover:

 

304 pages
Published:

 

October 2005
ISBN:

 

9781932476224
Size:

 

1.1 x 8.3 x 11.8 inches
Weight:

 

4.2 pounds