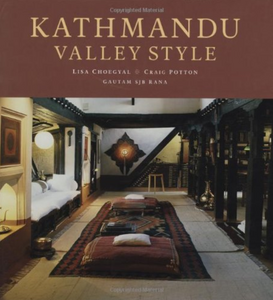 Nepal is widely acclaimed for its unique art and architectural styles. The ancient palaces, temples, courtyards and street-scapes of Kathmandu Valley are protected as no less than seven World Heritage Sites. Shrines are worshipped daily as part of Nepal's vibrant living heritage. Recent efforts to preserve the architectural heritage of Kathmandu have carefully and authentically restored many of the Valley's important public monuments.
Lesser known are the recent imaginative and adaptive use of Nepali architecture and decorative styles into new buildings and private homes. Kathmandu Valley Style captures the wealth of the past and illustrates how influences from the Malla Newar, Tibetan and Rana architecture have been incorporated into present-day buildings and lifestyles. Using traditional themes and building techniques in the restored historic and new structures has breathed fresh life into Kathmandu's rich living cultural heritage, and provided additional attractions for visitors.
Kathmandu Valley Style features over 40 historic and new buildings, many of them never before photographed or published. Reinforcing national pride in Nepal's vernacular architecture, this unique collection demonstrates how traditional art and architecture can be successfully incorporated into homes for today's changing world.
The book will appeal to residents, visitors, tourists, and all who love Nepal, as well as devotees of fine books on art, architecture and interior design.
Hardcover:

 

188 pages
Published:

 

September 2008
ISBN:

 

9781932476347
Size:

 

27 x 2.3 x 28.9 cm